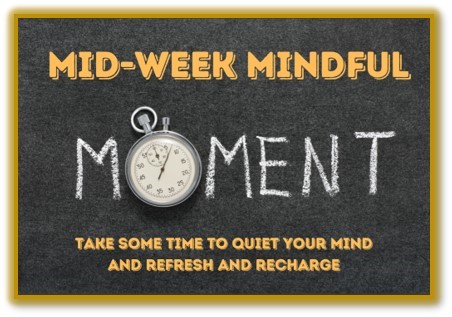 The Mindful Moment Sessions are back! Join us for a Mid-Week Mindful Moment on Wednesdays to ease some stress and tension during the busy school year.
Each session, we will focus on a different aspect of emotions, stress management, or resiliency, and we will talk about how to take care of ourselves better at work, school, and/or at home. There will be a 10-15 minute meditation and deep breathing practice followed by a discussion period. Sessions will last about 30 minutes.
Take a few minutes to recharge and refresh on your busy day, which can also help you reframe your thoughts and feelings for the rest of the week. We hope you will take this time for yourself! You deserve it!
Mid-Week Mindful Session Dates and Themes for May:
May 17 – 3:00-3:30pm – Understanding the Critic
May 24 – 12:00pm-12:30pm - Positive Feedback and Celebration
Please note: These sessions will not be recorded this time. Please attend the live sessions to take a break from the busy day.
SPECIAL DRAWING: Each session will have a drawing for a $25 wellness prize. All those who attend the session will be entered into the drawing. (The winner will be selected after the session is over, not during the session, and the winner will be contacted directly about their prize.)
Reminder: All College of Marin students, faculty, and staff have free access to the Wise@Work App. You can use this App anytime you need a meditation or mindfulness break – before, during, or after the work day. The app also has some excellent learning series topics, such as Achieving Work-Life Balance, Freeing Yourself from the Inner Critic, 7 practices for Better Sleep, Burnout to Balance, etc.